&nbsp&nbsp&nbsp 41. Create a non-profit.
&nbsp&nbsp&nbsp 42. Strike up a conversation with a stranger.
&nbsp&nbsp&nbsp 43.
Have dinner at Joel Robuchon, MGM Grand
.
&nbsp&nbsp&nbsp 44. Be completely debt free.
&nbsp&nbsp&nbsp 45. See autumn leaves in New England.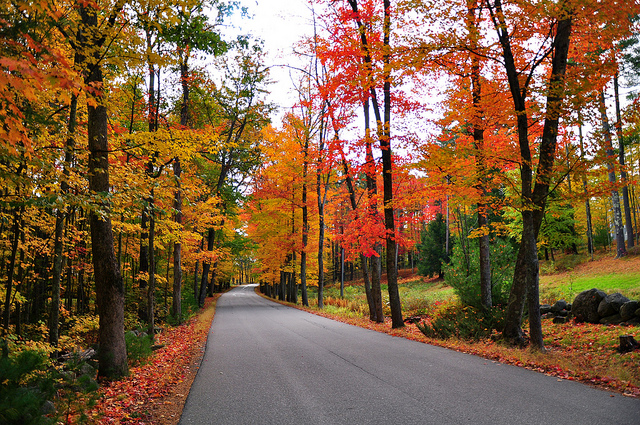 [Photo: Huffingtonpost]
&nbsp&nbsp&nbsp 46. See spring blossoms in DC.
[Photo: Pictify]
&nbsp&nbsp&nbsp 47. Host a dinner party.
&nbsp&nbsp&nbsp 48. Celebrate 50th wedding anniversary.
&nbsp&nbsp&nbsp 49. Visit make up counter.
&nbsp&nbsp&nbsp 50. Start a tradition.
I would love to be so independently wealthy that I could invest my time in a worthwhile non-profit. Something that would make the world a kinder place. Possibilities are endless.
I'm not one who actively shares. I'm much more comfortable being an observer. Outside of work, it usually takes me a few encounters to feel comfortable shedding my shell. I've never been one to strike up a conversation just because. Doing so, would be a good way to get me out of my comfort zone.
$435 Tasting Menu? Yes, please! Honestly, I'd be satisfied with one of their Prix Fixe menus $127-$250. I imagine it would be an experience of a lifetime.
Debt free seems like a dream, doesn't it? We are well on our way for that dream to come true. We have no mortgage and no credit card debt. I paid off my car a while back. Currently, the only debt in my name is the loan for our RZR 900 and the bed we purchased in June. We could pay off the bed, but no interest is accrued so we're making payments to ease the burden. Frank only has a loan in his name for his truck he purchased this summer.
Fall foliage and Spring blossoms would be such fantastic sights to see! Timing is everything.
I've hosted holiday dinners and had friends over for dinner. I'm thinking of dinner party with three courses or something along those lines.
I would love nothing more than to celebrate our 50th wedding anniversary (and more). That would be April 17, 2054 (crazy!) My heart melts whenever couples weather all those years together. My cousins grandparents just celebrated their 62nd anniversary. How awesome is that?!
It seems silly that visiting the make up counter made the list, and it might be, but it is what it is. I never learned to apply make up so you'd think it'd be natural to pay it a visit, but for whatever reason I am extremely intimidated by the idea. One of these days, I need to bite the bullet and try.
Traditions usually begin when you start a family, since it's just Frank and I we've never really established anything. I tend to make gouda pork chops for Christmas dinner and we try to make an annual trip to San Francisco each fall for crab season. Maybe those count?